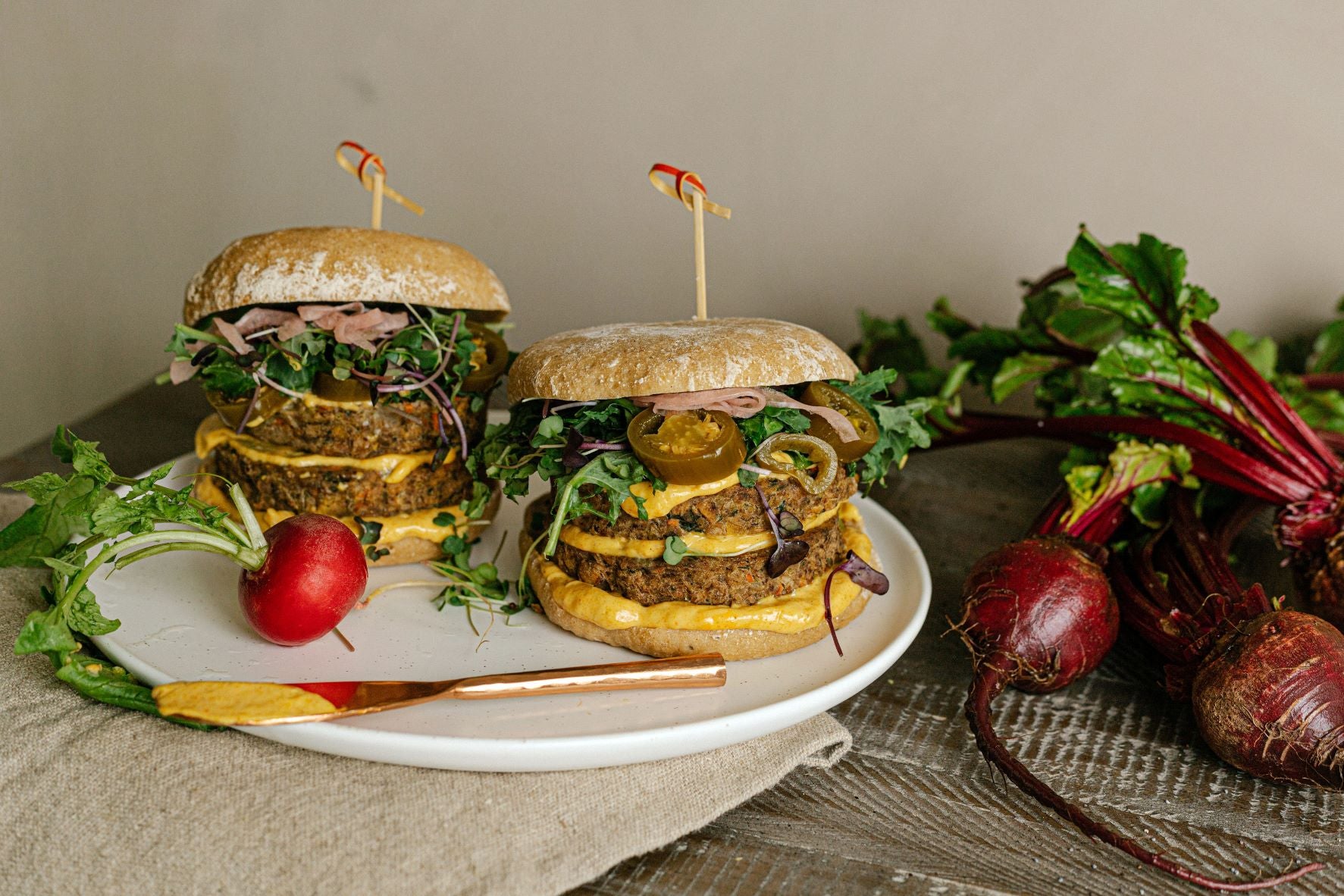 Recipe: Beet & Lentil Veggie Burgers
Prep: 10 mins    Total Time: 45 mins    Servings: 2
Summer is here!  And after a long day in the sun, seeking adventure and playtime sitting down to a nourishing burger is so satisfying.  Our beet & lentil veggie burgers are our go-to for the summer BBQ with friends.  Jam packed with flavour, and sandwiched between our wildly fermented gluten free buns, they are a show stopper.

And for those busy summer months, make these in advance and store in your freezer for a quick and easy meal after that day at the beach! 

Ingredients:
For the burgers
¾ cup green or brown lentils (cooked)
1/2 cup grated beet
⅓ cup rolled oats (ensure it's certified GF)
¼ cup oat flour (ensure it's certified GF)
2 Flax Eggs (1 tbsp ground flax with 2 tbsp water)
1 tsp cumin
1 tsp chili powder
1 lime, zest and juice
1 cup arugula 
¼ cup pickled jalapeno
Salt and pepper, to taste
For the cashew cream sauce
1/2 cup raw cashews
¼ cup water
1 lime, juice
1 tsp cumin
Salt and pepper to taste
Method:
Preheat the oven to 375F.
Make your flax eggs first, by combining 1 tbsp ground flax with 2 tbsp water in a small bowl.  Set aside to allow to come together.  In a large bowl, mix all of the burger ingredients together, and your flax eggs (minus the arugula and pickled jalapeno) with your hands. Season with salt and pepper. Form them into 2 patties and place on a lined baking sheet. 
Bake for 25-30 minutes, flipping halfway through. In the last 3 minutes of baking, add the buns to the oven to warm them up. 
Meanwhile, add all of the cashew cream ingredients to a high speed blender or food processor and blend until smooth. 
To assemble the burgers, toast two Alkeme Gluten Free Buns (either in the toaster or lightly toasted in the oven) put the patty first and top with cashew cream, arugula and pickled jalapeno. Option to stack two patties on one burger!