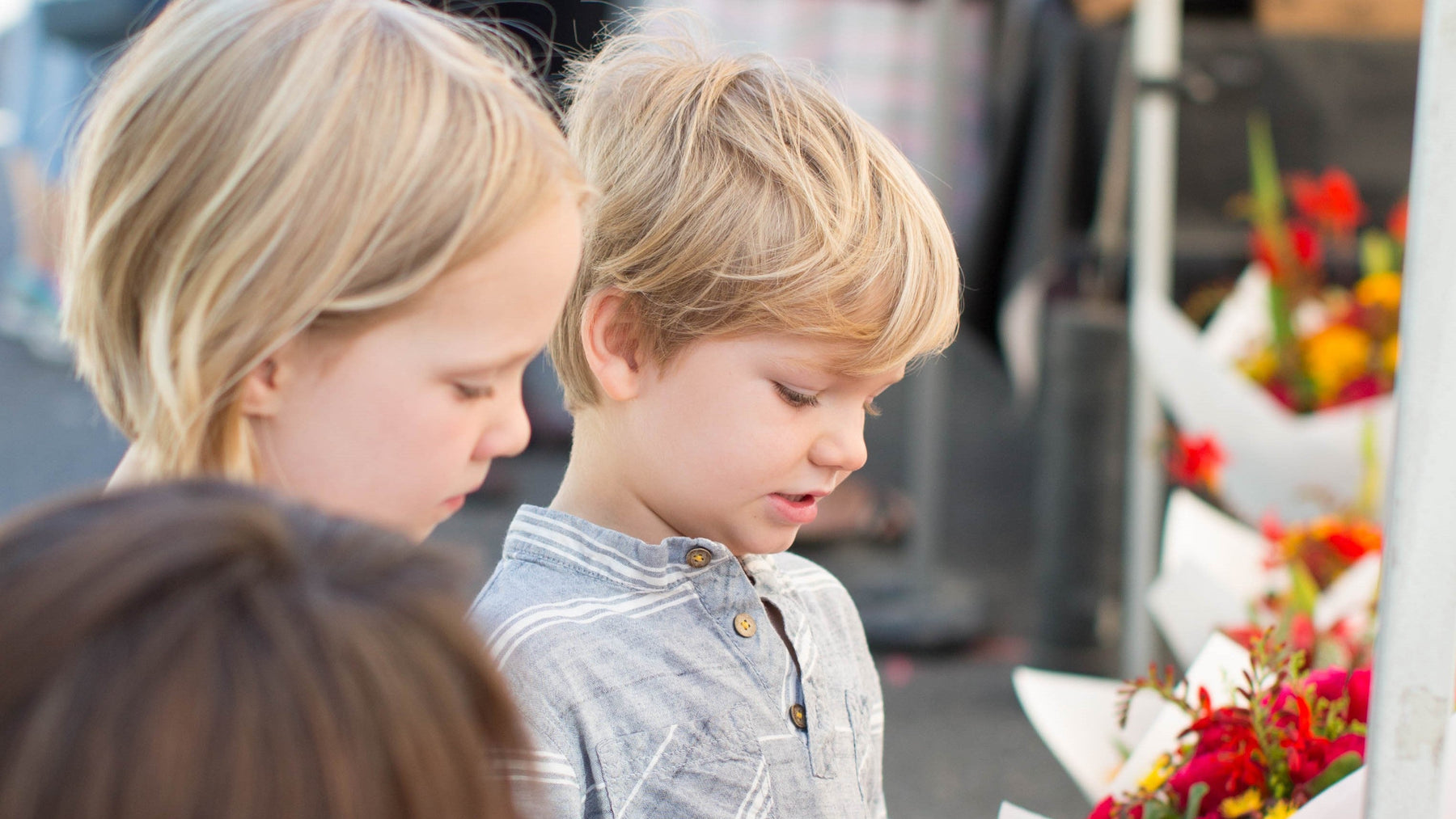 Why We Love Farmers Markets
5 years ago we left the life we had built for ourselves.  We didn't know what we were going to do. 
The freedom of that – not knowing – was amazing, powerful and inspiring.  And it was a unique feeling we hadn't experienced in years.  We decided to give ourselves a year to figure it out. 
Find a way to piece together a year without getting pulled into a new routine, again devoid of the freedom we were currently experiencing.  As it turned out, we attended our farmer's market as vendors just a few weeks later.  Melinda felt called to it, perhaps a childhood love for bake sales paired with the notion of showing love through food.  So she took her homemade granola bars she had been baking for the family, just to see how it would go. 
For anyone who hasn't vended at a farmer's market or out in the open before, let us tell you it is quite a new experience. 
You put yourself in front of strangers with a product they've never seen and there they are standing right in front of you.  Squinting at your product labels.  Asking about the price.  Wondering about the ingredients.  Taking samples and providing immediate feedback.  Some good and some bad.  And let's not forget about the preparation – it is no small feat to have packaged products arrive safely displayed at a table in the middle of the street!
What a rush!  You're interacting with strangers like you've known them.  You're trying to keep up with the line, you're engaging with everyone and feeling so much energy and life around you.
5 years later, we find ourselves exploring all sorts of marketing and advertising avenues still holding on to the belief that we just need more people to know about what we're doing, what we're making. 
And then it hit us.  We need to go back to the markets. The feeling of freedom we had with no defined path in front of us.  The level of interaction with people – genuine conversations with relative strangers.  Particularly in these days, those conversations are near impossible to come by.  And so, we find ourselves thrilled to be back at the farmer's markets.
We encourage you to find your local market and take the time to go.  Of course we hope our paths cross and we get to see you out there.  But even if we aren't at your local market, all the other vendors are having the same experience we have just described.  Perhaps it is their first time putting themselves out there – in front of customers with a new, untested product.  And think of where they may be in 5 years.  Regardless of what they're selling and what you're looking to buy – the human interaction, the fresh air and the ability to support small, local businesses is tough to beat.
Here is our current market schedule and we may be adding more so check back frequently for updates.  Take care and be well!
 Cheers,
Melinda & Todd