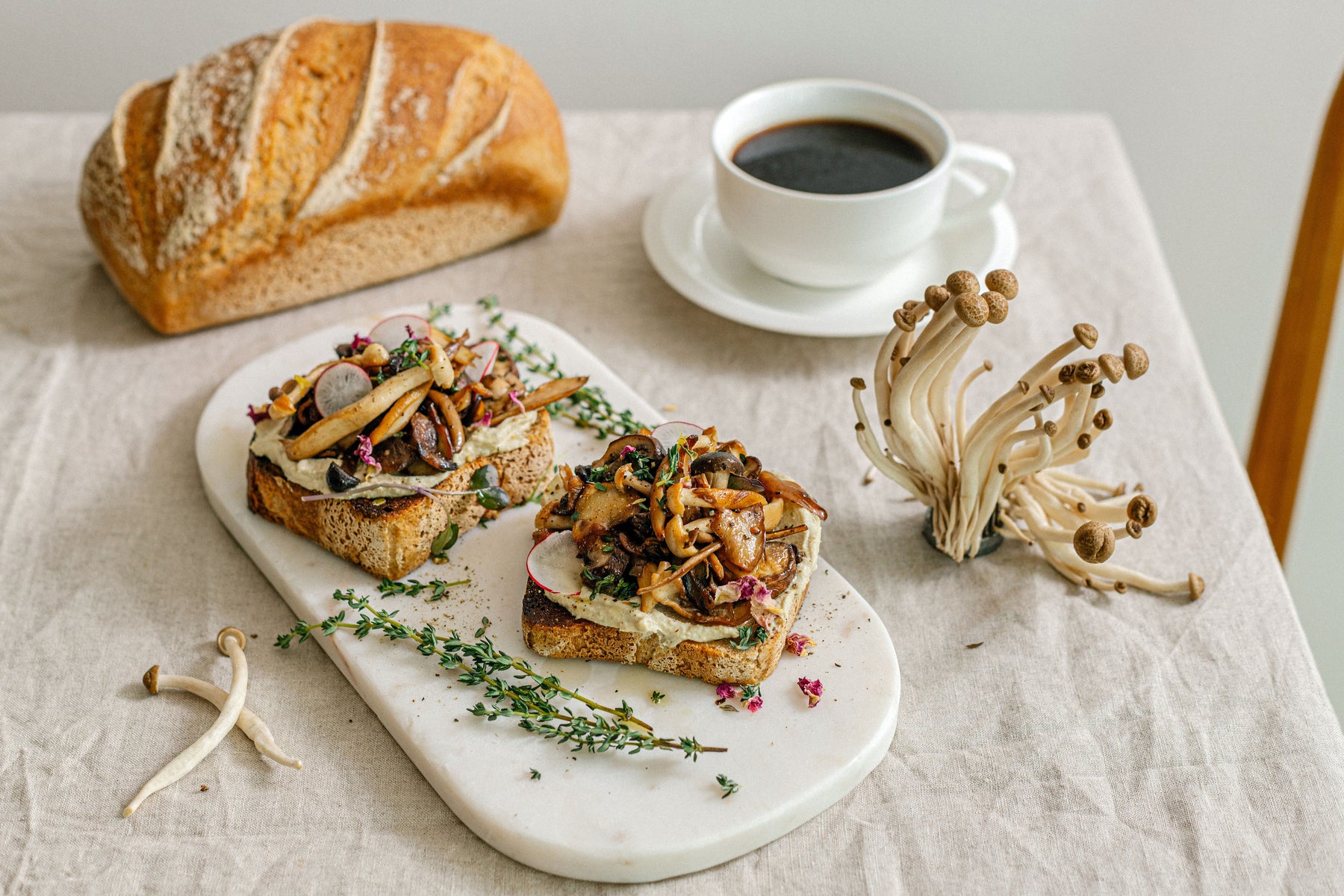 Recipe: Wild Mushroom & Cashew Cheese Toast
Prep: 5 mins    Total Time: 30 mins    Servings: 4
Rich, decadent & nourishing.  Our Wild Mushroom toast with cashew cheese will leave you satiated.  This rich source of fiber, protein, and antioxidants paired with our wildly fermented gluten free sourdough country loaf is upping the plant based game...in just 30 minutes.
Ingredients:
4 tbsp olive oil, divided
3 cups wild mushrooms 
1 tsp fresh rosemary, roughly chopped
1 tsp fresh thyme + more for garnish, roughly chopped
½ cup raw cashews
1 tbsp warm water
1 tbsp lemon juice
1 tbsp nutritional yeast
¼ tsp garlic powder
2 radish, thinly sliced
Salt and pepper to taste
Method:
Preheat the oven to 425F. 
Brush the slices of bread with 2 tbsp of the olive oil and toast until golden brown. 
Place the cashews in a bowl and cover with boiling water for 10 minutes. Drain and set aside. You can also soak the cashews for a few hours ahead of time if you prefer not to add heat.
Meanwhile, toss the mushrooms in the remaining 2 tbsp of oil with the thyme and rosemary. Season with salt and pepper. Arrange in a single layer on a baking sheet. Roast for 20-25 minutes, or until golden brown and crispy. 
Place drained cashews in a high speed blender or food processor with the warm water, lemon juice, nutritional yeast, garlic powder and salt and pepper. Blend until smooth. 
Spread the cashew ricotta onto the toast, top with roasted mushrooms, sliced radish and fresh thyme.