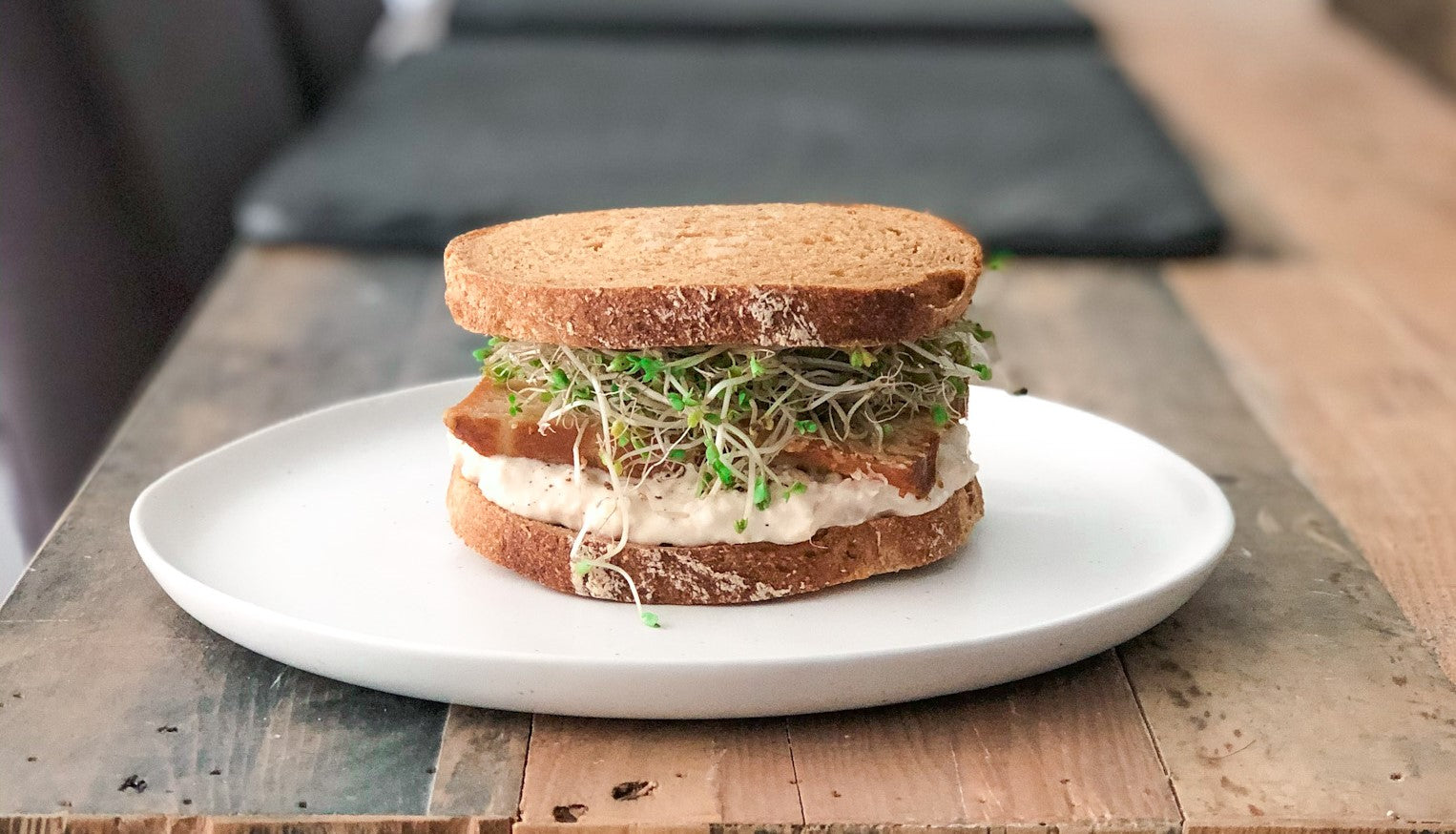 Recipe: Cannellini Miso Mash Sandwich
1 Serving
Who needs tuna? This plant based and gluten free reinvention of the classic tuna sandwich will keep you coming back for more! - created by Jordan Bruce, RHN
Ingredients:
1-2 tbsp of vegan mayo, I used a miso mayo
3-4 slices of dairy free smoked cheese, I used Miyoko's
Option to add lots of ground black pepper and fresh herbs 
Method:
Start by adding the beans to a bowl and use a fork to mash them. You can also use a potato masher. Then you will add your vegan mayo to get it nice and creamy. Add your Alkeme gluten-free sourdough bread to your toaster, I like a double toast for good crunch. While it's toasting, grind some fresh pepper into your bean mix and any chopped fresh herbs. Slice your dairy-free cheese of choice, I highly recommend a smokey semi-hard cashew based cheese. Slather bean mix on one side of your toast and assemble the sandwich with your peppery arugula. Enjoy!
Notes: if not buying beans in bulk and cooking, I recommend Eden Organics as their beans are easier on your tummy since they're cooked and a piece of kombu is added for optional digestion and nutrient absorption. You will have leftover mash for a sandwich tomorrow or you can share! Opt for a canola free mayo if you're trying to reduce inflammation. 
The Why - Is eating fish sustainable?
This is such a difficult topic and can be broken down into so many parts. How was the fish caught? Was your tuna sandwich caught with long lines harming other sea life? Do you care that the MSC (marine stewardship council) promotes more sustainable fishing, but that same fisherman also catches unsustainable fish? What are your thoughts about over consumption of some species like wild salmon? 
"Compartmentalization remains necessary because there isn't enough of an economic advantage for companies to make only sustainable catches. It costs fishermen more to fish sustainably because they have to find the tuna, instead of waiting for it to come to the FAD."  - The conversation 
If long term trends continue, there may not be any seafood left by
2048.
  A loss in biodiversity is connected to declining water quality, harmful algal blooms, ocean dead zones, fish kills, and coastal flooding. It's also devastating that marine life eat plastic thinking it's food - we must do better and reduce single use plastics. There are so many sad powerful images of this online.
Another important question, is fish even healthy? Well, we need to be mindful about mercury levels that bind to the protein in fish tissue, especially tuna.  The older and bigger fish may have also absorbed more mercury by eating smaller fish. Mercury impacts the nervous system, brain development of children, energy levels, brain fog, mood swings, tremors, insomnia, depression, anxiety and even vision changes. Fish also accumul
ate polychlorinated biphenyls (PCBs) a type of persistent organic pollutant (POPs) that's a highly toxic industrial compound found in our oceans. PCBs have been linked to cancer, ear infections, eczema and asthma.
 
This delectable reinvention of a classic was created by Jordan, Register Holistic Nutritionist and founder of Bruce's Roots Wellness. Make sure to check her out on her blog and daily Instagram feed @jordanbruce.rhn.
Interesting Reads